A few months ago my hosting account got hacked and all of my blogs and those of my clients got redirected to malicious sites. I had to request help from my host in the US in order to remove the malicious scripts from my account. As a result, I lost income, I lost sleep, and exposed my readers to the hackers. Apparently, the hackers enter through a bug in a plugin or in older versions of WordPress.
If you've noticed a few weeks ago, there was a proliferation of porn and images of extreme violence on Facebook due to hacked accounts. The disturbing images spread everytime somebody click it and then it is automatically posted on all your friends' walls on Facebook.
Here's how you can protect yourself from hackers and spammers.
1.  For bloggers using WordPress, protect your blogs form hackers by updating your WordPress and plugins to the latest version. Also avoid using plugins which are not yet verified by WordPress.
2. Protect your account in Social Networking sites such as Facebook by not immediately clicking on images and links which seem tempting at first but are quite suspicious even if it's form somebody you know. Would your friend post links to porn sites on your wall? Just think before clicking on that link.
3. Protect your email account from hackers buy not clicking on emails sent with links even if it's from your contact. Usually, these emails don't have subjects. If you receive suspicious emails, delete theme immediately so you will not have a chance to click it in the future.
As long as we go online there's always the threat of hackers and spammers but we can avoid the daunting tasks of recovering precious files by protecting ourselves.
The editors of the Windows Secrets Newsletter have compiled some of the best security stories into this PC Security Guide eBook that provides simple and straight forward advice for secure computing. The eBook will provide you with the basic tools in order to protect yourself from most online threats.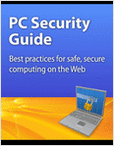 Hurry download your Free copy of PC Security Guide eBook now since this is a limited time offer only. This ebook is valued at $9.95 and you can download it for Free before 12/6/2011.